Gingerbread coming to Samsung Galaxy S
Got the news yesterday but I didn't have time to upgrade the phone due to an event in Espoo. I got home at midnight so I had to wait till today. So here we are, the Gingerbread update for Samsung Galaxy S we have been waiting for. This update is for all Galaxy S phones in the European countries so I supposed you got them too. I don't know about Asian though and I'm sorry for those living in the US (good luck with Froyo, btw, if not Eclair). 
So, first off, open Kies, plug in your phone in MTP mode (Kies Mode in USB connection settings). Kies 2.0xx will tell you there is a firmware upgrade. So, just do it. Backup your phone contents (contacts, pics etc.) and hit the Download button. If there is something I hate about this upgrade is that Samsung ask me 3GB of free storage :| damn, 3GB? The update package I guess isn't that huge but why would Kies want to me to free up so many space in my laptop? Oh dear, I've gotta get rid of "some" stuff to meet that demand from 1gb free in my C: drive (including Firefox 4).
I have told Kies to download the update beforehand to save time when upgrading the phone so it doesn't take long. The update loaded quickly, extracting and restart the phone. Here comes the S logo, looks like it's almost ready. Restart the computer. Here we are, I can smell the Gingerbread!
So, as I have told you last time, there is an 2.2.1 update - which now I'm sure that it was just a preparation for your phone to get ready to embrace 2.3.3. The reason for this I can't be sure but probably Samsung just want to make sure things work nicely. In March, I was told by a Samsung staff at Mobile Dev Camp Helsinki that Samsung Finland was about to release the update but Samsung Korea held it back. And last week, Samsung Finland said Gingerbread would be released by Mid-April and they really do keep their promise. I love them.
Enough talk, let's look at the pictures: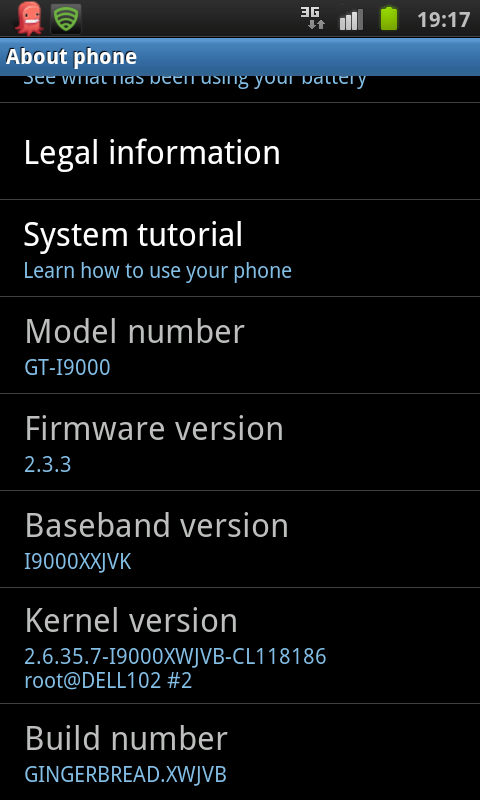 Similar to 2.2.1, there is a Software Update section above which I'm not sure what it does exactly (update the OS or the pre-installed Samsung Apps?)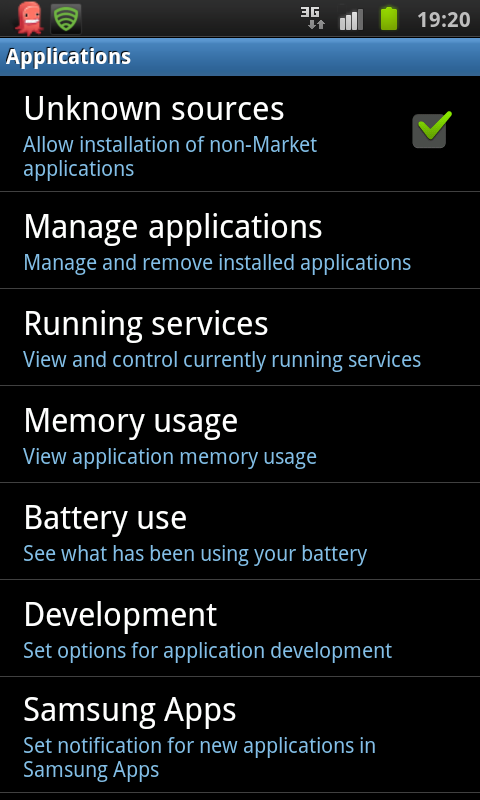 Memory Usage and Battery Use is now moved under Application. Also, clearing RAM doesn't have 2 Levels anymore.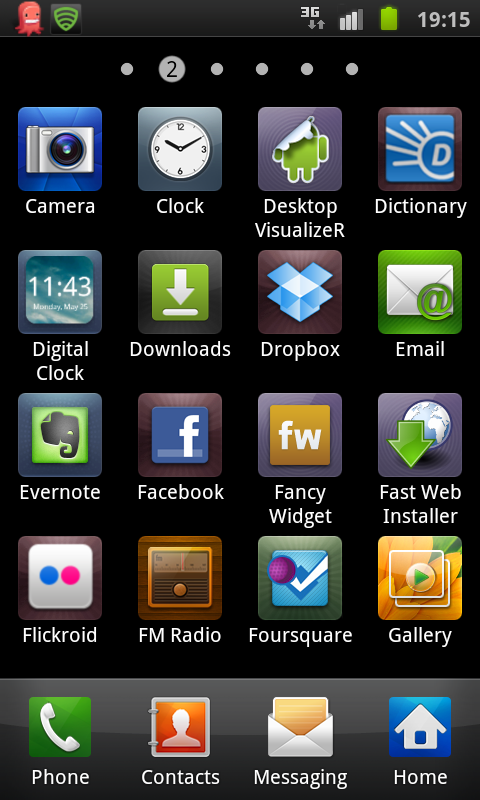 In the App Drawer, there is now a "Download" application which heads to the list of everything you downloaded that are not apps (pictures, documents etc.). Oh, do you know that TwLauncher allows you to Edit the apps and move them around freely to re-order the apps in a "folder" style app drawer?
By the way, I am using a new app called Desktop VisualizeR which replaces the icon of the app in homescreen :D how cool is that, hah? You can choose your own pictures to replace the apps' icons in your homescreen for maximum personalization. I'm thinking of doing WP7 style on my Zeam launcher :P haha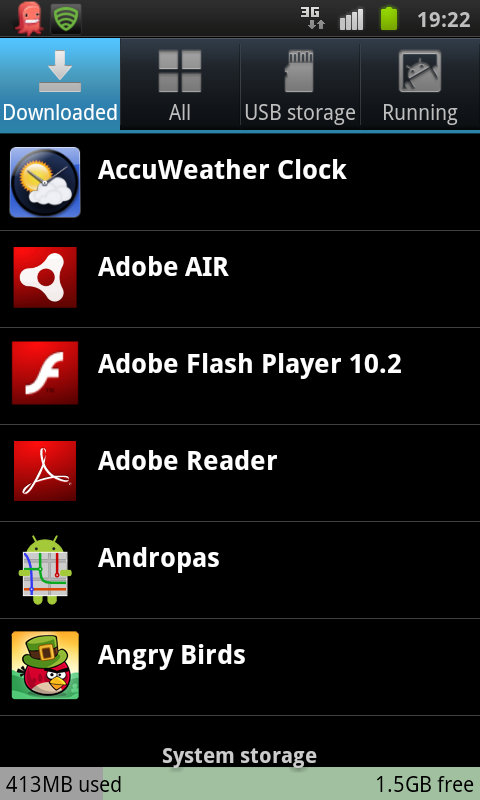 I opened the Running Services and there is this funny stuff above. The Running tab shows me all the apps that are running and how much RAM they use in total and how much left is free. The 1st tab is "Downloaded" which is different to the one I told you above (the new icon in the app drawer). This tab shows me which apps I have downloaded which is pretty weird because I'm sure I didn't download AccWeather Clock (it's preinstalled), or did I?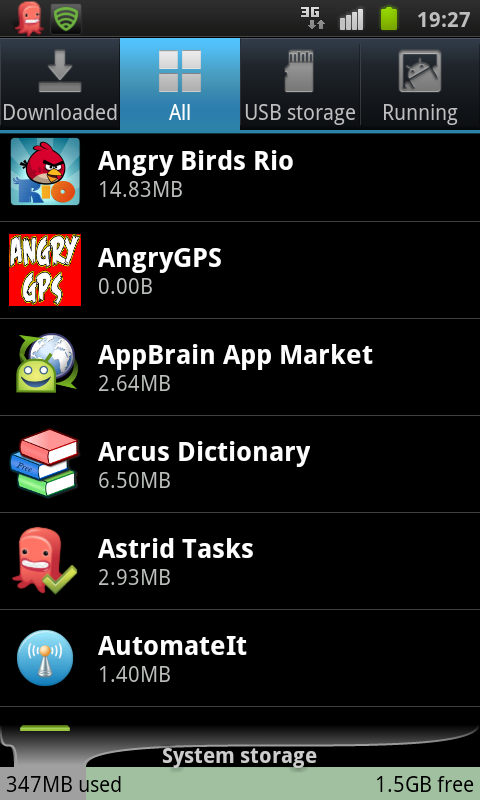 Whatever, the 2nd tab is "All" means all the applications in the phone. There I found one app called "AngryGPS" which has the typeface and the word "Angry" similar to some game I have there. Well, first time seeing this and I wonder why Rovio puts it there. Getting location for Ads? Sounds like a proper answer but I wonder if it's because of Rio. 
Anyway, there is new icons in the Notifications area too but I can't get a screenshot of it (stupid phone). The Notification area just goes away every time I hit Back+Home to get the photo taken. I'm too lazy to get my DSLR and take a huge 4MB photo to show you how it looks. Why don't you just update it yourself ;)) would be more fun that way.
Good luck, Galaxy S users! Leave me some comments below and remember to tell the other too!